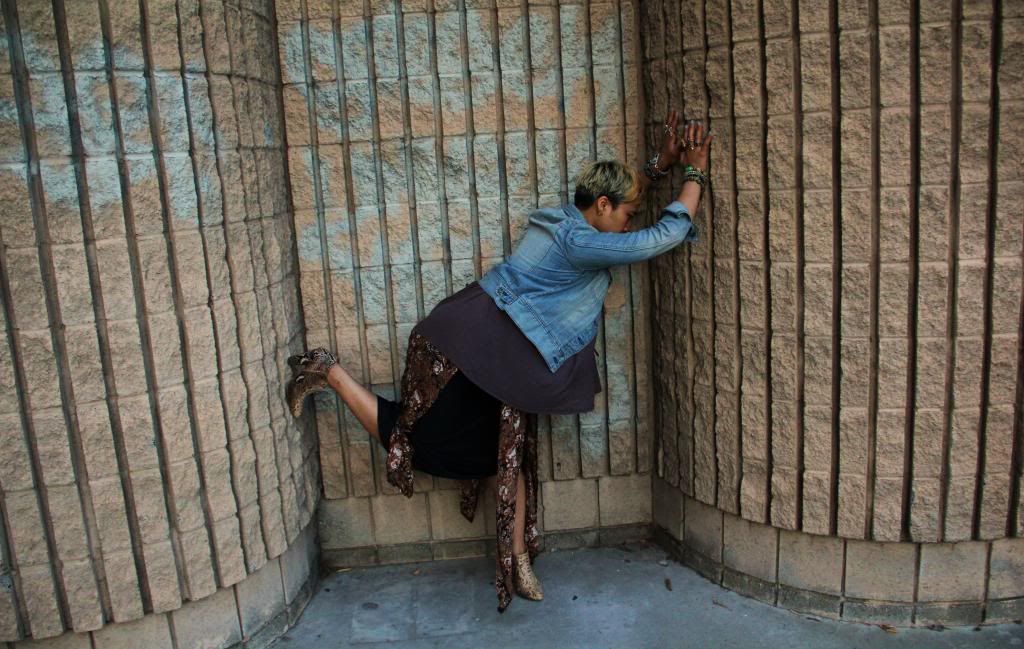 ( I do not apologize for my constipated face )
( snakeskin booties: Urban Outfitters, denim jacket:Old Navy, floral vest and black maxi skirt: Vintage)
We at some point of our lives are all guilty of Pushing "IT". "It" = insert noun here...We can practically push anything figuratively speaking and literally. I in particular love pushing my poop out of my bum hole figuratively and literally. Meaning no one likes toxic shit in there lives and if you do, you probs gots some fucked up shit going on in your head. It weighs heavy on your heart and even fucks up the way you go about your life. That is why there are walls and boundaries that must be put up. We shouldn't push our limits to the point of physical and mental breakdown. When the red flags of "I can't take this any more" starts waving we need to pack our bags and leave that toxic shit behind. Lets be practical, I can't push this brick wall (pictured above) just like you can't push someone or something into being the person or thing you want them or it to be.
I am no longer going to "push it". This is me standing my ground, an oath I take on here, FBJ and to all 10 of you who reads this blog ( 5 probably being the ones that are loyal followers, the other 4 my besties "the boys", and one being Bob in Arkansas, hopefully not my mother because I haz potty mouth). I am not going to let the darkness in my mind and unhappy people ruin my rainbow that I ride!